Nadus Films, New World Distribution and Aspiration Media Release Feature Documentary of Break Dancers Who Take Their Battle to the Stage Not the Streets.
A Story of Three Lives Stuck in a World of Violence That Look to Set an Example for their Country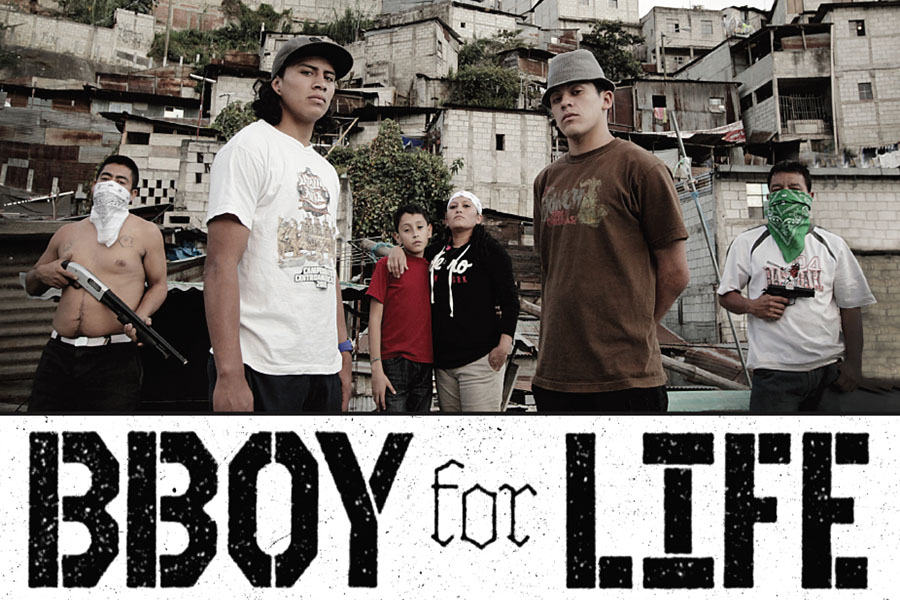 New York, NY – March 2014 – There are over 70,000 active gang members in Central America.
In Guatemala City, there are places where the police dare not go.
Even in the depths of despair – there is a group of young people that don't just dance…but dance for their lives.
With one of the highest murder rates in the world, there is a common phrase that Guatemalans say about their country "la vida no vale nada" (life is worth nothing).
In Guatemala, it is known that the only way you leave a gang is in a coffin. But for one group of young people, beyond the despair, remains a hope found not in gun shots but in break dancing.
In the documentary BBOY for LIFE, Nadus Films, New World Distribution, and Aspiration Media take audiences through the bloody streets and dangerous world of life in Guatemala City, where three young people defy the statistics and risk their lives by turning their back on the gang life of their peers.
When the life of an active female gang member, Leidy, intersects with street break dancers Cheez and Gato, they discover the common thread of wanting to escape their violent environment filled with fear and uncertainty, and set an example for the younger generation.
BBOY for LIFE documents the lives of break dancers, and the hope and freedom they discover in their dance.
It is in dance they escape the world of crime, hatred, and the violence that suffocates them.  When the b-boys dance, they discover the freedom to express their feelings and frustrations.
Meet Leidy, an active gang member fresh out of prison. Watch her struggle to decide on leaving the gang life despite the danger it will bring on her and her family.
Can she find the courage to put her past behind her and find a new life for her and her sons from the deadly gang life?
As Leidy comes to terms with her past and seeks forgiveness from her family, her spirit is awakened by the b-boy community and the passion and freedom they have found in break dancing.
Cheez and Gato are b-boys who have traded the sounds of gun shots for music, family, and laughter.  The b-boys bring competition to the dance not the streets. There is no fear, hatred, or bloodshed in the dance like there is in the streets of Guatemala.
For the b-boys, it is their dream to dance. It is the dance that bonds them, unites them, and makes them stronger. It is who they choose to be. It is the only freedom they know. It is where they have found family.
It is through dance the b-boy's find peace. It is in their blood for life.
Director and producer, Coury Deeb, hopes audiences will become awakened to the injustices happening in Guatemala and understand that art and talent can combat evil. While filming, Deeb spent time in dark alleys with gangsters, slept on floors in crowded homes in the ghetto, and became friends with the b-boys and b-girls that battled on the stage.
"I want to bring awareness of those struggling in the ghettos of Guatemala City. These young people have maintained a focus in pursuing their dreams, when their peers are living violent gang lives," says Deeb. "The gangster life offers a false illusion of family and loyalty. The b-boys and b-girls are using their artistic gifts to promote peace and be an example to others."
Additional information on the BBOY for LIFE movie is available online at www.bboyforlifemovie.com.
Coury Deeb, Director/Producer:
Coury Deeb is a filmmaker, storyteller, thrill-seeker, philanthropist, entrepreneur, husband, and father of three. Above all, Coury is a faith-filled believer in hope. His undying optimism — which often clouds his ability to detect peril — and his need for adventure have led him into some of the worlds' most dangerous places. What he has brought back from each place, what sets Coury apart, are the stories of others' optimism and peril, along with the fierce determination to change the lives of those he has met along the way.
These individuals' stories of tragedy and triumph, along with Coury's fierce determination to help those he has met along the way, make Coury's life a mirror for those listening. Nadus Films, the nonprofit movie making company that Coury founded, exists "to make films that make a difference."
In 1998, at the formative age of 18, Coury Deeb left his home of Louisville, Kentucky, to join a small group of socially minded young people to experience a life of poverty, social injustice, and the transformative power of community in North Philadelphia.
Given only $6 a day to live on, Coury, along with six other housemates, moved into a dilapidated brownstone and made the ghetto their home for one year. Living and working in the economically depressed environment, he quickly learned that he not only had a knack for survival, he thrived in a community that was devoted to something greater than his own welfare.
"My desire in this world is to see more art and less evil," says Coury. "If this is my purpose, then I will stop at nothing through the making of films, sharing my stories, and educating others to use their gifts to serve."
Coury has a message to share and a unique perspective on life that draws people to him. Just like his film making pursuits, Coury encourages the viewers to not stop at pressing play. His films are not for awareness only. His stories demand adventure, activism, and altruism.
BBOY FOR LIFE MEDIA CONTACT
Ben Laurro, Pure Publicity
818 753 4056 or Ben@purepublicity.com