New World Distribution proudly announces signing Academy Award and Oscar nominated Director Debra Granik's new film Stray Dog for distribution. A powerful look at the veteran experience, a surprising love story, and a fresh exploration of what it takes to survive in the hardscrabble heartland.
Harley-Davidson, leather, tattooed biceps: Ron "Stray Dog" Hall looks like an authentic tough guy. A Vietnam veteran, he runs a trailer park in rural Missouri with his wife, Alicia, who recently emigrated from Mexico. Gradually, a layered image comes into focus of a man struggling to come to terms with his combat experience. When Alicia's teenage sons arrive, the film reveals a tender portrait of an America outside the mainstream.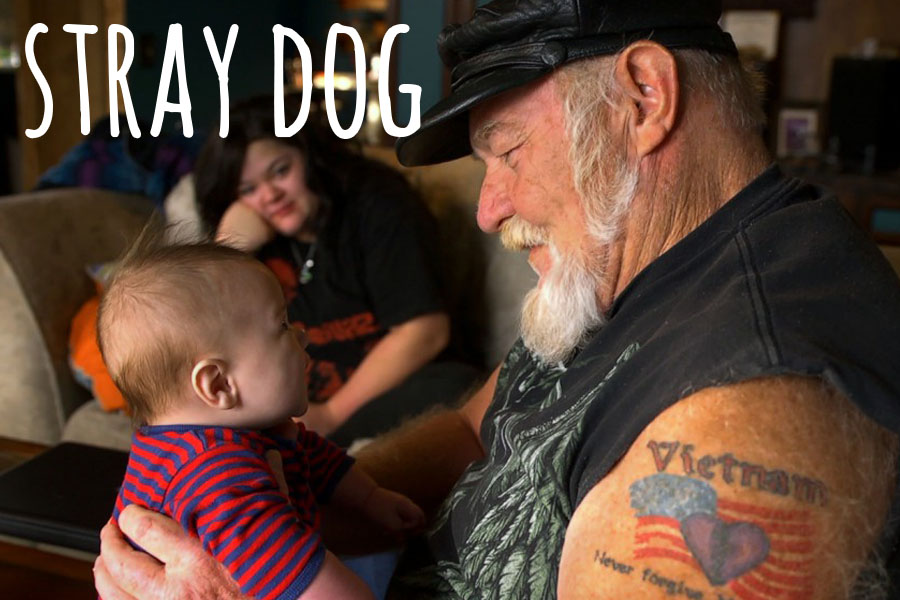 PRESS QUOTES
Winner Best Documentary Feature – Los Angeles Film Festival 2014
"…a beautifully crafted observational portrait that addresses, with love, empathy and humor, some of the issues we struggle with as a country today, such as PTSD, immigration and poverty. Never lecturing, but instead revealing an intimate glimpse of a man's family and his compassionate, troubled heart…"
-Jury members: editor Lynzee Klingman, director Margaret Brown and film critic and author Justin Chang
VARIETY
"Winter's Bone director Debra Granik provides plenty of surprises in her superb slice of American life on the margins… In an era when many coastal Americans' ideas of the heartland poor come from hicksploitation TV series, Stray Dog provides a very welcome corrective."
-Andrew Barker, Variety – June 19, 2014
SCREEN INTERNATIONAL
"Sympathetic without being sentimental or condescending, Stray Dog is an enormously touching, understated look at an aging Vietnam veteran still wrestling with the invisible scars of a war that took place some 40 years ago. This documentary, the first from Winter's Bone filmmaker Debra Granik, utilizes an observational, unobtrusive style that reaps major rewards, offering a casual glimpse into a series of lives on the margins of American society, touching on family, faith, love and survival with an effortless grace."
-Tim Grierson, Screen International – June 14, 2014
NONFICS
"Whenever someone asks what I mean when I say that too many docs look and feel the same, I can say, "None of them are like Stray Dog." This is a film that blows apart your pre conceived notions of how a documentary can be put together. It is a perfectly told story with vivid characters, an acute sense of place and many marvelous emotional beats."
-Dan Schindel, Nonfics – June 17, 2014
Ron "Stray Dog" Hall lives in Southern Missouri where he owns and operates the At Ease RV Park.  After seven years of living with four small dogs as his only companions, he is adjusting to life with his wife, Alicia, who is newly arrived from Mexico.  Anchored by his small dogs and big bikes, Stray Dog seeks to strike a balance between his commitment to his family, neighbors, biker brotherhood, and fellow veterans.  As part of the legacy of fighting in the Vietnam War, he wrestles with the everlasting puzzle of conscience, remorse, and forgiveness.
With Stray Dog as our guide, we experience the restlessness of ex-warriors as he tries to make peace with what he can't change and weathers the incomprehension of those who have never been to war.  Every year, Stray Dog joins thousands of bikers on a cross-country ride to the Vietnam Memorial in Washington DC for a series of veteran rituals.  He hurtles down America's highways, staving off specters of post-traumatic stress and haunting memories while forging deep bonds along the way.  From the back of his bike, Alicia tries to decipher a totally unfamiliar biker culture.  Their intimacy is pushed to new limits as Alicia and Stray Dog share the pleasures and tensions of life on the road.
Back at home, Stray Dog navigates the pressures of everyday life including the economic survival of his grandchildren and the increasing poverty of his community.  The arrival of Alicia's twin sons from Mexico throws into harsh relief the current state of opportunity that newcomers seek and that America can or cannot offer.  Stray Dog continues to tally the cost of war, bearing witness to the soldiers coming home from Iraq and Afghanistan: both the dead and the living.  The two families become more entwined and find lyrical ways of coexisting.  The questions of contemporary American life loom larger and thornier, leaving us to wonder what is next for Stray Dog and his blended, multi-ethnic family.
CREW BIOS
DEBRA GRANIK – DIRECTOR
Debra Granik is the Academy Award nominated director and co-writer of Winter's Bone, which was nominated for four Oscars, including Best Picture, and won the Grand Jury Prize at the 2010 Sundance Film Festival. Granik and co-writer Anne Rosellini were Oscar nominated for Best Adapted Screenplay. Her first feature film, Down to the Bone, won Granik the Best Director prize at the 2004 Sundance Film Festival.
ANNE ROSELLINI – PRODUCER
Anne Rosellini is the Academy Award nominated producer and co-writer of Winter's Bone, which was nominated for four Oscars, including Best Picture, and won the Grand Jury Prize at the 2010 Sundance Film Festival. Rosellini and co-writer Debra Granik were Oscar nominated for Best Adapted Screenplay. Rosellini produced Granik's first feature film, Down to the Bone, which won Granik the Best Director prize at the 2004 Sundance Film Festival.
VICTORIA STEWART – EDITOR, PRODUCER
Victoria Stewart is a film editor based in New York via Berlin via San Francisco, with experience spanning Production and Art Department as well as Post. Her work includes narrative and documentary film and television projects for HBO, Columbia Pictures and Warner Bros.
ERIC PHILLIPS-HORST – CINEMATOGRAPHER
Eric is a director, producer and cinematographer based in New York. Some of his featured work includes broadcast television (PBS, Biography Channel, MTV, Nickelodeon, Arte France), documentary and independent festival circuits (CPH:DOX, Rooftop Films, HBO NY and LA Latino) and numerous online publications (The Atlantic Monthly, Huffington Post, TED Talks, Indiepix). He teaches production and digital arts at The Documentary Center, and is a founding member of three filmmaking collectives: Brooklyn Filmmakers, Meerkat Media, The Goddamn Cobras.