THEIR PLAN WAS SIMPLE; THEY'D OFFER AN ACTIVE SERIAL KILLER COMPLETE ANONYMITY AND A WORLDWIDE PLATFORM.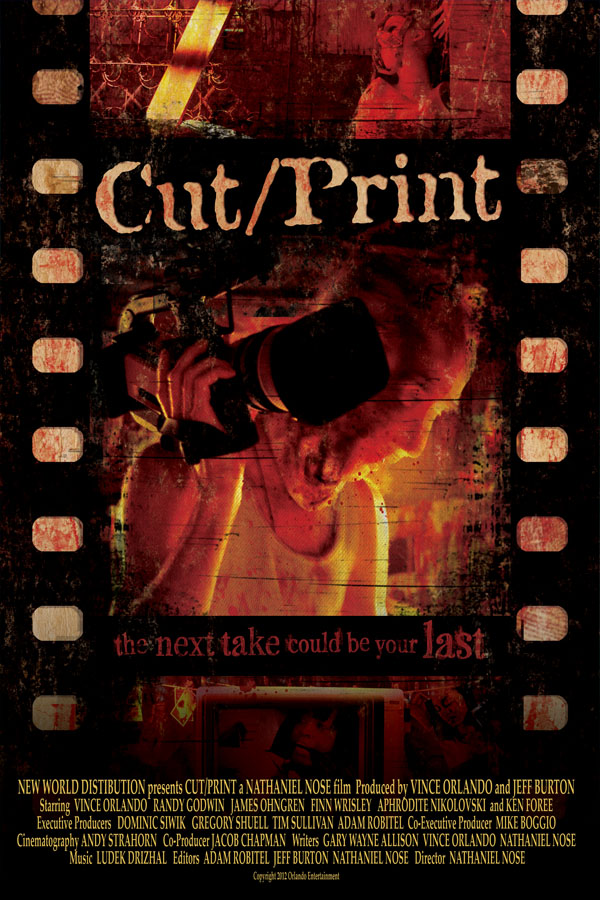 Cut, Print story line
John and Paul, ambitious to a fault, will stop at nothing to break into Hollywood. As a result, exploitation for profit has become their business.
After nearly destroying Paul's uncle's police precinct by spinning a documentary to make good cops look bad, they've come upon their newest scheme; to bait an active serial killer by offering complete anonymity and a worldwide platform for which the killer's work can be displayed. They begin receiving tapes of women being murdered and quickly realize they've bitten off more than they can chew.
Or at least Paul and Mark, the cameraman, realize. John wants his fifteen minutes. The tension rises among the filmmakers as the question is continually posed, "how far is too far?"
When they finally decide the line has been crossed, it's too late. The police won't listen to them and neither will the killer. The tapes continue to pile up as the filmmakers are forced to fight for their lives.
Short Synyposis:A group of ambitious filmmakers set out to create the world's first reality horror movie.Their plan was simple; they'd offer an active serial killer complete anonymity and a worldwide platform from which to display his work in exchange for genuine footage of his grisly crimes.

What ensues is a hellish game of cat and mouse as a cryptic filmmaker, known only as The Maestro, comes out from hiding in search of his "perfect shot".

MPAA: Rated R
Duration:
Released: October 29, 2012
TV System: NTSC
Aspect Ratio: 4:3
Format(s): HD, 1080p
Available Territories: Worldwide
Director: Nathaniel Nose
Writer(s): Gary Wayne Allison, Vince Orlando, Nathaniel Nose
Producer(s): Vince Orlando, Jeff Burton
Production Co.:
Cast: Randy Godwin, Trick Trick, Paradime, Vince Orlando, Ken Foree, Tamara Frapasella, Chelsea Fatula, Anfela Chetcuti, Ele Bardha,Aphrodite Nikolovski, Finn Wrisley, James Ohngren
Crew: Andy Strahorn
Official website: http://www.cutprintthemovie.com/
Official Trailer: https://www.youtube.com/watch?v=6P20Qa8LU4M&index=2&list=PLmboqgeSryOpXf2Rw8EC8yvGfrsYA6W8Q
Video on-demand: https://vimeo.com/ondemand/cutprint
Screener Available: Yes
Film placed: