A TRAVEL FILM "THAT EXPLORES THE HUMAN SPIRIT WITH EMOTIONAL BREADTH AND QUIET SUBTLETY." THE MAIN CHARACTER, IAN IS A TERMINALLY ILL.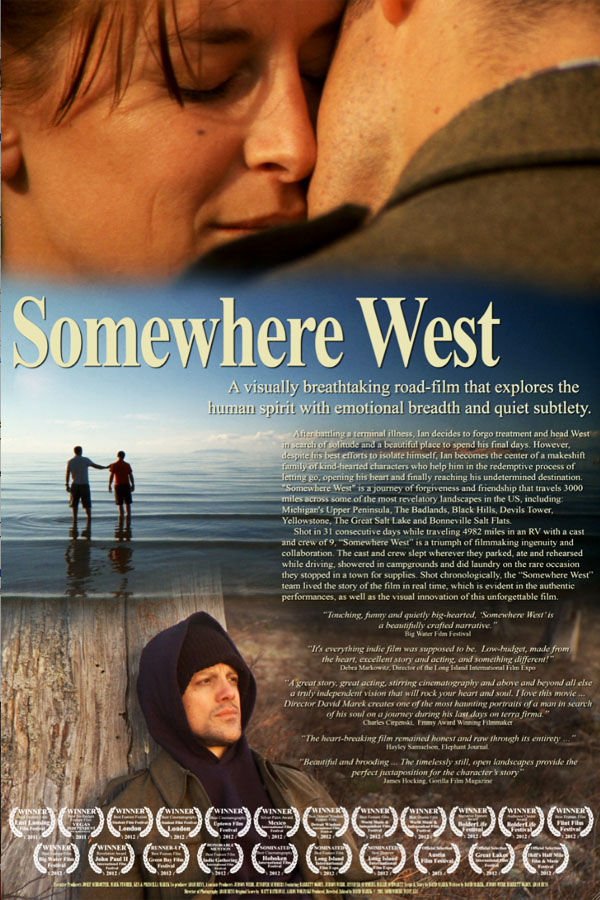 Somewhere West story line
The majority of our responses to these questions take for granted their actual weight. Considering these questions from the point of view of someone succumbing to a terminal illness, who will not live to see these future dates, puts life and the way we live each day into perspective.
"Somewhere West" is a travel film "that explores the human spirit with emotional breadth and quiet subtlety." The main character, Ian is a terminally ill man who decides to opt out of spending his last days on Earth being treated in a hospital. Instead he embarks on an American road trip, a journey to live in every moment and a journey in search of somewhere perfect to live his final moments.
Over the course of his trip, Ian unexpectedly befriends a group of precarious characters that disrupt the solitude he established upon setting out on his journey. As he travels from the Upper Peninsula of Michigan, to the Badlands, through the Black Hills, to Devil's Tower, to Yellowstone, to the Great Salt Lake and the Bonneville Salt Flats, he discovers his reliance upon and appreciation for the bonds of friendship secured by these strangers. The trio includes a burnt-out gambling addict and two compassionate, beautiful women who each aid Ian in the "redemptive process of letting go, opening his heart and finally reaching his undetermined destination."
Short Synyposis:"Somewhere West" is a travel film "that explores the human spirit with emotional breadth and quiet subtlety." The main character, Ian is a terminally ill man who decides to opt out of spending his last days on Earth being treated in a hospital. Instead he embarks on an American road trip, a journey to live in every moment and a journey in search of somewhere perfect to live his final moments.
MPAA: Not rated
Duration:
Released: January 13, 2013
TV System: NTSC
Aspect Ratio: 16/9
Format(s): HD, 1080p
Available Territories: Worldwide
Director: David Marek
Writer(s): David Marek
Producer(s): David Marek
Production Co.: David Marek
Cast: Barrett Ogden, Judson Webb, Jennifer Summers, Hallie Schwartz
Crew: David Marek
Official website:
Official Trailer: https://vimeo.com/newworlddistribution/review/73814668/eb97f79ed8
Press Kit:
Video on-demand:
Screener Available: Yes
Film placed: